The Barbican – London's brutalist icon
World War II bombings of December 1940 destroyed some of London's tissue, including surroundings of the ancient Roman wall remains, called Barbican. By the end of the 19th century, the area "was the centre of the rag trade and was home to fabric and leather merchants, furriers, glovers and a host of other tradesmen".1 Devastated by war, the site remained almost empty – from 1851 to 1951 the resident population of the square mile of the City of London fell from 128,000 to 5,000 – and that created a unique opportunity to rebuild Barbican from scratch.2 The complex of buildings that filled the gap will be then acclaimed the miracle of modern architecture.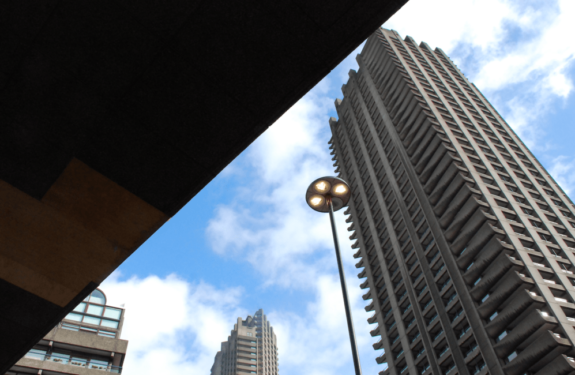 After WW2 "only two small but significant structures remaining on the site – the badly damaged St Giles Church, Cripplegate and a long-standing remnant of the ancient Roman Wall."3 The City of London Corporation left the mission to develop the site in the hands of three architects: Peter Chamberlin, Geoffry Powell, and Christof Bon. Unlikely many other post WW2 constructions The Barbican survived the test of time, due to it combines a sound urban design concept with a high-value development. That was understood by The City of London Corporation that financed that high-quality neo-Corbusian experiment.4 This clearly brutalist, utopian vision creates "the city within the city", space in which concrete structures interweave with vivid green spaces there. Structure of the Barbican is also a reference to early London settlements.
The Queen, while unveiling a plaque commemorating the opening said: "what has been created here must be one of the wonders of the modern world."
The estate was designed between 1954 and 1959, in the years 1965-1976 complex of residential buildings arose. The Barbican Estate consists of thirteen terrace blocks and three tower blocks named Shakespeare, Cromwell, and Lauderdale towers raised on 35-acre ( 14 ha). The residential complex "is made up of 2,113 residential units intended to house 6,500 residents". Moreover, in 1982 the integrated Art Centre was officially opened within the estate. The centre is one the largest arts centres in Western Europe.5 Queen Elisabeth II, while unveiling a plaque commemorating the centre's opening said: "what has been created here must be one of the wonders of the modern world."6 The art centre includes a concert hall, theatre, art galleries, library, restaurants, bars, conservatory and two schools.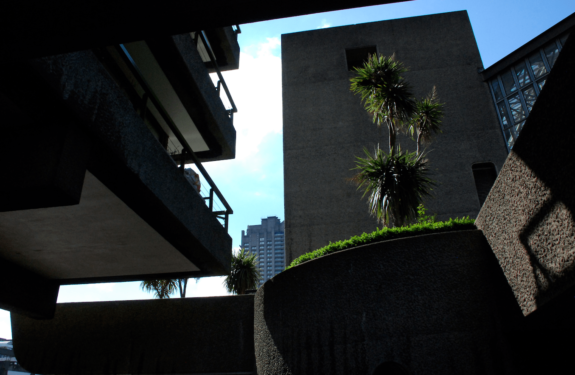 The Barbican Estate is "listed under the Planning (Listed Buildings and Conservation Areas) Act 1990 as amended for its special architectural or historic interest."7
All photos by Eliza Kania
1 Barbican, http://barbican.org.uk
2,3,4,5 G. Borthwick, BARBICAN: A Unique Walled City Within the City, Edinburgh 2016.
5,6 1982: Queen opens Barbican Centre, "BBC".
7 Barbican,"Historic England"
---
INFO
Name: The Barbican Estate of the City of London
Architects: Peter Chamberlin, Geoffry Powell, and Christof Bon
Dates: 1965-1976
Big screen: Estate served as headquarters of M16 in "Quantum Of Solace"
Location: London, Great Britan, 51°31'12.5″N 0°05'36.7″W